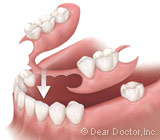 While dental implants are the preferable choice for teeth replacement, your life circumstances may cause you to postpone it or some other permanent restoration. In the meantime, you need a temporary solution for your tooth loss.
Removable Partial Dentures
Removable partial dentures (RPDs) have met this need for many years. RPDs are traditionally made of rigid, acrylic plastic resin and fasten to existing teeth with metal clasps. While effective as temporary tooth replacements, RPDs do have their drawbacks: they can be uncomfortable, develop a loose fit and are prone to wear and staining.
Recently, though, new RPDs made of a flexible type of nylon are addressing some of these drawbacks. Because the nylon material is thermoplastic (able to change shape under high heat), it can be injected into a cast mold of a patient's mouth to create the denture base, to which life-like replacement teeth are then attached. And rather than a metal clasp, these RPDs have thin, finger-like nylon extensions that fit snugly around existing teeth at the gum line.
New Type of Partial Dentures
The new RPDs are lightweight, resistant to fracture and offer a more comfortable, snugger fit than the older RPD. And because the nylon material can be made to closely resemble gum tissue, the base can be designed to cover receding gum tissue, which may further improve the appearance of a patient's smile.
On the downside, these new RPDs are difficult to reline or repair if they're damaged or the fit becomes loose. And like all RPDs, they must be regularly removed and cleaned thoroughly to prevent any accumulating bacterial biofilm that could increase the risk of gum disease or tooth decay (the attachment extensions are especially susceptible to this accumulation). They should also be removed at night, since the reduction in saliva flow while you sleep can worsen bacterial buildup.
A Good Transition To Implants or a Fixed Bridge
Still, the new flexible RPD is a good choice to bridge the time gap between lost teeth and a permanent restoration. They can restore lost function and improve your smile during the transition to implants or a fixed bridge.
If you would like more information on temporary tooth replacement, please contact us or schedule an appointment for a consultation.