Posts for: May, 2013
By Drs Lawitts
May 30, 2013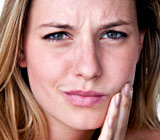 You have probably heard a lot of people talk about TMJ disorders, but do you know what it all means? How do you know if you are suffering from a TMJ disorder?
Below are answers to some common questions about TMJ disorders.
What is a TMJ disorder?
First, we should explain that TMJ actually refers to the Temporomandibular Joint, which is the formal name for your jaw joint(s). TMD stands for Temporomandibular Disorders, which is the correct name for the muscle and/or joint symptoms that commonly arise when there is TMJ pain and dysfunction. You may have heard people refer to the actual disorder as TMJ, but this name is incorrect.
When I experience TMJ pain, what exactly is happening?
Let's first understand all of the parts that play a role in your pain. The temporomandibular joints connect your mandible (lower jaw) to your skull on both the left and right sides, which makes the lower jaw the only bone in the body with completely symmetrical joints at both ends. There is a ball-and-socket relationship between your jaw and your skull on both sides, but the unique part is the presence of a cushioning disk between the two surfaces in each joint. Each TMJ has a disk between the ball (condyle) and socket (fossa), and this sometimes ends up being an especially important area when trouble arises.
So, how do I know if I have TMD?
You can never be absolutely sure, but here are some symptoms you should be sure to share with us during your examination:
Clicking. You may experience a clicking sound in the jaw, usually due to a shift in the position of the disk inside the joint. However, if you do not have pain or limited jaw function, this symptom may be insignificant.
Muscle Pain. The next symptom is jaw muscle pain, usually in the cheeks or temples. If the muscle is sore or stiff in the morning, this pain is usually related to clenching or grinding in your sleep. However, there are more complex muscle pains that can spread to your head and neck.
TMJ Pain. This third symptom refers to pain actually inside one or both of your jaw joints, technically described as arthritis of the TMJ.
If diagnosed, what can I expect from treatment?
We will first need to assess the damage to your TMJ, and from there we will recommend a course of treatment to relieve your pain. Treatment may range from hot or cold compresses and anti-inflammatory medications to physical therapy or a bite guard. We may also advise you to do jaw exercises at home. In general, we will do our best to treat your issue without orthodontic treatment or surgery.
If you would like more information about TMD, please contact us or schedule an appointment for a consultation. You can also learn more by reading the Dear Doctor magazine article "Seeking Relief from TMD."
By Drs Lawitts
May 15, 2013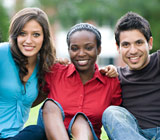 Kids do lots of changing in the teen years, as bodies and minds begin the process of becoming more "grown up." By now, parental reminders to brush teeth and go easy on sugary snacks might be met with rolled eyes and a groan. But there are still several ways that parents can help their teens to maintain good oral health.
1) Make sure kids get — and wear — a professionally made, custom-fitted mouthguard when playing sports.
The American Dental Association says athletes are 60 times more likely to suffer dental injury if they don't wear a mouthguard. These devices also protect the jaw, lips, cheeks, and tongue — not just the teeth. A mouthguard that's custom-made from a model of your child's teeth costs a little more, but offers greater protection than an off-the-shelf model.
2) Talk to your teens about the dangers of oral piercings.
Like tattoos and iPods, piercings are probably a sign of the times. But that doesn't make them harmless. Installing tongue and lip bolts creates a risk for the teeth and soft tissues that are nearby. Tooth chipping, sensitivity and pain, along with gum recession and infection, are some of the issues that may accompany an oral piercing. Remind teens that future dental problems may be a high price to pay for a fleeting fashion statement.
3) Get professional help if you — or your teen — develop an addiction to tobacco, alcohol or drugs, or an eating disorder.
Nobody wants to admit they aren't in control. But peer pressure, body image concerns and a host of other issues may lead teens into dangerous behaviors. The negative effect of various addictions on one's general health is well-documented; with respect to oral health, there are particular concerns. Tobacco not only stains the teeth, but causes changes in the mouth that can lead to oral cancer. Erosion of the tooth enamel is both a diagnostic signal of a potential eating disorder, and a problem that needs treatment. Don't hesitate to ask questions, particularly when an examination reveals a potential problem, and be sure to seek professional help when needed.
If you would like more information about helping your teen maintain good oral health, please contact us or schedule an appointment for a consultation. You can also learn more about this topic by reading the Dear Doctor magazine article "How to Help Your Child Develop the Best Habits for Oral Health."