Posts for tag: celebrity smiles
By Dr Lawitts
May 07, 2020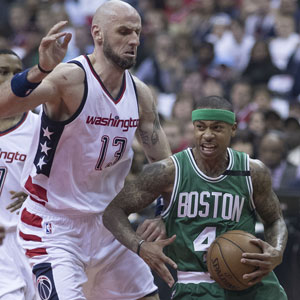 All eyes were on Boston Celtics point guard Isaiah Thomas in Game 1 of the second-round NBA Playoff series against the Washington Wizards — and not just because he scored a game-high of 33 points! Even more dramatic was the moment his jaw collided with an opponent's elbow, sending one of his front teeth flying out of his mouth and onto the floor.
Press reports said the Celtics' team physician attempted to reinsert the tooth, but it didn't remain in place when Thomas resumed playing the game. Over the next several days, he reportedly underwent a total of ten hours of oral surgery, and was fitted with a four-piece temporary bridge. A statement from the team noted that Thomas suffered "a complete fractured tooth and two other subluxed/shifted teeth… [He] will receive a permanent bridge at a future date." So what does all that mean?
When we say a tooth is fractured, it means the crown (visible part) of the tooth has broken off from its roots, either above or below the gum line. Depending on the severity of the fracture, it is sometimes possible to save the natural tooth by performing a root canal to prevent bacterial infection, and then placing a crown (cap) on the tooth to restore its appearance and function. In more severe cases, however, the tooth can't be saved and must be extracted.
Unfortunately, that isn't Thomas' only problem. He also has two subluxed teeth — that is, teeth that have shifted from their original position, but haven't been knocked out of their sockets. Subluxed teeth often result from a severe blow to the mouth, and may be treated by stabilization or splinting. Team officials haven't said exactly what was done during Thomas' dental treatment, but it could very well have involved extracting the roots of any teeth that couldn't be saved, and possibly placing dental implants in his jaw for future tooth restoration.
A dental implant is a small screw-shaped titanium post that is inserted directly into the bone of the upper or lower jaw in a minor surgical procedure. In time, it becomes fused with the bone itself, offering a sturdy anchorage for replacement teeth. One implant can support one replacement crown; two or more implants can support a number of replacement teeth joined together as a unit. This is called a dental bridge.
Bridges can also be supported by adjacent healthy teeth — but first, the outer surfaces of the crown must be prepared (reduced in size), so that the bridge can be attached over the remaining part of the crown. In many instances, implants are preferred because they do not compromise the structure of healthy teeth nearby.
Dental difficulties didn't end Isaiah Thomas' season — but an earlier hip injury that became aggravated finally did.  As unfortunate as this is, maybe now at least the NBA star will have a chance to let those injured teeth heal, and show up next season with a smile that's as good as new.
If you have questions about treating injured teeth, please contact us or schedule an appointment for a consultation.
By Drs Lawitts
June 20, 2017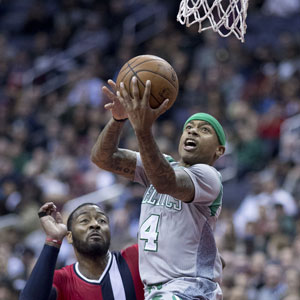 Even after losing a tooth in an on-court collision with an opposing player, Isaiah Thomas didn't slow down. The Boston Celtics point guard completed the play…and the rest of the game. Unfortunately, that wasn't the end of his dental problems — it was just the beginning.
Over the next few days, Thomas had a total of ten hours of oral surgery to treat problems with multiple teeth. He got a temporary bridge, and will receive a permanent one at a later date. He also got fitted for a custom-made mouthguard to prevent re-injury.
We're pleased to see that Thomas is getting appropriate dental treatment. But it's unfortunate that he didn't get the mouthguard sooner; this one piece of inexpensive safety gear could have saved him a lot of pain and trouble. If you think mouthguards are strictly for full-contact sports, Thomas' troubles should make you think again. In fact, according to a 2015 study in the journal Sports Health, the five sports with the highest overall risk of tooth loss are basketball, football, hockey, martial arts, and boxing. Plenty of other also involve the risk of dental injury.
The study also notes that some 5 million teeth are avulsed (knocked out) each year in the U.S. alone. Countless others are loosened, fractured or chipped. What's more, it is estimated that the lifetime cost of treating an avulsed tooth is between $5,000 and $20,000. The cost of a custom-made mouthguard is just a small fraction of that.
Where can you or your child get a custom-made mouthguard? Right here at the dental office! These high-quality items are professionally fabricated from a model of your actual teeth, so they fit much better than an off-the-shelf one ever could. They offer superior protection, durability and comfort — because, after all, no mouthguard can protect you if it's too uncomfortable to wear.
Thomas' season is now over due to a hip injury, but at least he will now have time to rest and get his dental problems taken care of. Let's hope his story will inspire more athletes — both professional and amateur — to prevent similar problems by wearing custom-made mouthguards. Whether you compete on a school team, enjoy a pick-up game after work, or play in the big leagues, a dental injury is one problem that you don't need.
If you have questions about custom-made mouthguards, please contact us or schedule an appointment for a consultation.
By Drs Lawitts
January 08, 2012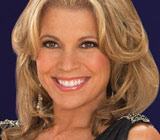 Describing Vanna White, co-host of the hit television game show Wheel of Fortune as friendly is an understatement. Yes, a good portion of the credit goes to her bubbly personality; however, you can't look at her without noticing her world-famous smile.
During an interview with Dear Doctor magazine, Vanna shared some of the secrets to her trademark smile. Secrets that she is instilling in her children.
"I floss every day and I brush my teeth at least twice a day — morning and night — and sometimes after lunch." She added, "I think that flossing is the most important thing. I believe that dental floss helps a lot, as it keeps your gums strong and looking younger." And when asked about how often she has her teeth professionally cleaned she replied, "...every four to five months because I get a lot of plaque buildup."
A typical dental hygiene visit is one that involves prophylaxis, a dental (and insurance) term for scaling and or polishing procedures to remove plaque and calculus (tartar) from the crown or portion of the tooth that you can see. Scaling is a procedure where we use special hand-held instruments and/or ultrasonic scalers to remove plaque, bacteria and tartar that can coat your teeth causing them to feel rough or fuzzy. To polish your teeth, we use a rubber polishing cup, prophy paste and a motorized instrument that removes bacterial plaque and surface stains. This is usually the last portion of a routine cleaning because it leaves your teeth feeling smooth and shiny.
However, if you have been seeing blood when you brush your teeth or while flossing, you have the telltale signs of periodontal (gum) disease. During your cleaning appointment, we will clean below the gum line to treat and manage your periodontal disease (an infection of the gum and jaw bones). We may also discover that additional, deep-cleaning treatments (such as root planing) may be needed to treat and manage your periodontal disease.
To learn more about this topic, continue reading the Dear Doctor magazine article "Teeth Polishing." Or you can contact us today to schedule an appointment so that we can conduct a thorough examination and cleaning. And if you want to read the entire feature article on Vanna White, continue reading "Vanna White."