Posts for tag: chipped tooth
By Drs Lawitts
August 14, 2016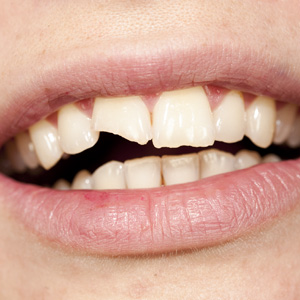 A tooth that's been chipped doesn't mean it's no longer healthy. The same, unfortunately, can't be said about the attractiveness of your smile, especially if it's one of your front teeth. A chipped tooth can be quite noticeable and make you self-conscious.
The good news is a chipped tooth can be restored cosmetically to look just as normal and attractive as your other teeth. Depending on the application there are two different materials we commonly use: porcelains, a type of oven-fired ceramic most often found in veneers or crowns; or composite resins, a mixture of glass and plastic substances we apply in liquid form that hardens in built-up layers on the tooth's surface to ultimately resemble normal tooth shape and color.
So, which of these two materials is the best option for your tooth? That depends on the extent and location of the tooth damage. Composite resins are most often used for mild to moderate chipping or breaks in the enamel (and somewhat for the underlying dentin) or decayed areas in the front teeth. Porcelain veneers or crowns are better for more extensive damage or discoloration.
Both materials have their advantages and disadvantages. Composite resins can be applied in one office visit, but they require a skillful technique and an artistic eye to achieve a life-like appearance; although their strength has improved over the years, they're also limited in their durability and longevity compared to porcelain. Porcelain, on the other hand, is quite durable and has an excellent tooth-like appearance; they do, however, require removal of more tooth material than a composite resin to accommodate the new veneer or crown, along with more than one visit and the services of a dental lab to create the restoration.
The best way to find out which option is best for you is to visit us for a thorough dental examination. From there we can review with you our findings, our recommendations and the costs associated with each option. But whichever material we use, porcelain or composite resins, you can look forward to a new smile you'll be proud to display.
If you would like more information on cosmetic treatments for teeth, please contact us or schedule an appointment for a consultation. You can also learn more about this topic by reading the Dear Doctor magazine article "Artistic Repair of Front Teeth with Composite Resin."
By Drs Lawitts
April 12, 2013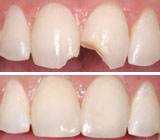 Imagine this: your active, adventurous child — or adolescent — loves high-risk contact sports like hockey or football, and while playing breaks a front tooth. After an emergency trip to our office, we recommend bonding as a good choice for this repair.
"What is bonding?" you ask. Here's what you need to know. In a bonding procedure, a composite resin restoration material is attached (bonded) to the broken tooth, and it looks as good as new.
Composite resin restorations are tooth-colored filling materials composed of a special plastic-based matrix for strength, with glass filler for aesthetics and translucence. The combination looks just like a natural tooth. The composite resin material is physically bonded to the remaining healthy tooth structure. First the natural tooth enamel or dentin must be etched so that the composite resin can attach and actually join to the tooth. In the end it will function as one and look exactly like a tooth.
Composites can be placed directly on the teeth in our office, quite easily, and they are relatively inexpensive. They look natural and can be matched to your child's natural tooth. They require little to no tooth reduction. Bonded composite resin restorations are the best choice for children and teenagers because their teeth and jaws are still growing and developing. What's more, they are still active in their sports and could need further restorations.
Composite resin restorations may need to be replaced with more permanent restorations after your child is fully grown. The bonded resin restorations may wear over time, and may stain and dull somewhat with age. When your child has completed growth, more permanent restorations such as porcelain veneers or crowns may be necessary.
By the way, a custom-made mouthguard might have prevented injury in the first place and certainly should be considered in the future.
If your child has chipped or damaged a tooth, contact us today to schedule an appointment or to discuss your questions about bonding and a protective mouthguard. You can also learn more by reading the Dear Doctor magazine article "Repairing Chipped Teeth."