Posts for tag: crown
By Dr Lawitts
December 14, 2019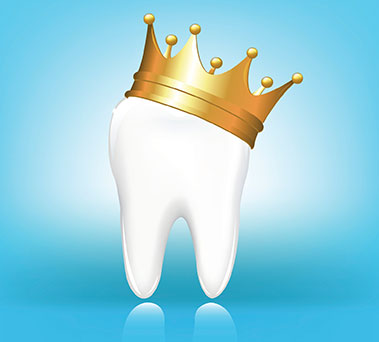 You may think all crowns are alike—but there can be a world of difference between one crown and another. Getting the crown your dentist recommends and one that's satisfactory to you will depend on a number of factors, including what you'll ultimately have to pay.
Here are 3 things you need to know about crowns before undergoing a crown restoration.
Different materials. Although porcelain is the most life-like material used, earlier types of this glass-based material weren't strong enough to withstand biting forces, especially in back teeth. Years ago, all-metal crowns were most often used until the development of a hybrid porcelain crown with an inner metal substructure for strength. In recent years stronger all-porcelain crowns have risen in popularity. The material type that works best often depends on the tooth to be crowned—all-porcelain may work for a visible front incisor, but a porcelain-metal hybrid might be needed for a back molar.
Level of artistry. While new computer manufacturing systems allow dentists to produce patient crowns in-office, most still require the services and skills of a dental lab technician. The cost difference between crowns usually occurs at this juncture: the more life-like and customized the crown, the more artistry and time required by a technician to produce it. This can increase the cost of the crown.
Limited choices. While you and your dentist want your crown choice to be as individualized and life-like as possible, your dental insurance may limit your options. Many policies only provide benefits for the most basic crown restoration—enough to regain functionality and have an acceptable, but not always the most aesthetic, appearance. To get a higher quality of crown you may have to supplement what your policy and deductible will cover.
Deciding which crown is best will depend on where it will be needed, the level of attractiveness you desire and your insurance and financial comfort level. And your dentist can certainly help guide you to a crown choice that's right for you.
If you would like more information on restorative crown choices, please contact us or schedule an appointment for a consultation. You can also learn more about this topic by reading the Dear Doctor magazine article "Porcelain Dental Crowns."
By Drs Lawitts
November 26, 2013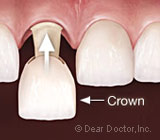 Like the ones worn by kings and queens of old, dental crowns were traditionally made of that most "royal" of metals: solid gold. This style of crown is still going strong after over a hundred years, but recent advances may have stolen some of its luster. Want to learn more about the different materials from which crowns can be made? Read on!
Gold crowns have stood the test of time, and many still consider them the best. Gold is one of the earliest materials to be successfully used for making crowns, and when properly done, it also lasts the longest: over 50 years in some cases. For these and other reasons, many dentists prefer to get gold restorations for their own teeth.
But in recent years, the use of gold crowns has been in decline — especially when the crown is for one of the front teeth. Why? In one word: aesthetics! With the advent of porcelain and porcelain-fused-to-metal (PFM) crowns, many people have opted to go with these more natural-colored tooth restorations.
PFM restorations have been in use for some four decades. They combine the strength of precious metals (gold or platinum) with the appeal of a finish that appears more like a natural tooth. With proper care, a PFM restoration may have a functional life of around 20 years.
With their pearly luster and semi-translucent sheen, all-porcelain crowns have an incredibly lifelike appearance. Porcelain itself is a glass-like material, which is specially modified to add strength when it's used in dentistry. In the past, there were some problems with brittleness in all-porcelain restorations. Today, newer formulations have been designed to avoid these issues.
High-tech materials that have recently become available to dentistry include a polycrystalline ceramic substance called zirconium dioxide or "Zirconia." It shows great promise in terms of aesthetics and strength, and is the subject of much ongoing research. One day, it may replace other materials and become the new "gold standard" of crowns.
Depending on the particular situation, one or more of these materials may be considered for your crown.
If you would like more information about crowns, please contact us or schedule an appointment for a consultation. You can also learn more about this topic by reading the Dear Doctor magazine articles "Porcelain Crowns & Veneers" and "Gold or Porcelain Crowns?"
By Drs Lawitts
November 06, 2013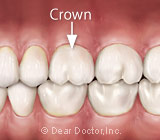 You've taken good care of your teeth all your life, with brushing, flossing and regular visits to the dentist. But chances are that someday (or maybe even now) you may be told that you need a restoration on one or more of your teeth. Oftentimes, that means a crown.
But what exactly is a crown, and why is it used? We're glad you asked!
In the course of time, natural teeth may need to be restored for a variety of reasons. As we age, our teeth may eventually become chipped or discolored. They can become weak and prone to cracking, or actually break due to tooth decay or trauma. Treating tooth decay may require a filling so large that there isn't much tooth surface left. Or, getting a dental implant (which replaces the roots of the tooth) means that you will need a replacement for the visible part of the tooth as well.
A crown (sometimes called a cap) is a common type of dental restoration. It's a way of replacing the tooth structure, in part or in full. A crown can cover the whole visible portion of the tooth, right down to the gum line. Since it's custom-made just for you, it is designed to fit in and function just like the rest of your teeth. And because it's composed of an extremely hard substance (gold, porcelain, ceramic, or some combination of these materials) it's made to last for a long time.
If a dental examination shows that you need a crown, here's how the process works: First, any decay is removed from the affected tooth, and it is prepared for restoration. Then, a 3-D replica of the tooth (and adjacent teeth) is made. This model is used to create a crown that matches your natural teeth. If you're getting a tooth-colored crown, the exact shade of the adjacent teeth will be duplicated as closely as possible.
After the crown has been fabricated, the tooth is made ready to receive the restoration. The crown is adjusted to mesh perfectly with the prepared tooth, and to function with the whole bite. Then, it is cemented or bonded into place. When it's all done, it can be hard to tell that you had any dental work done at all.
If you're thinking that it's a challenge to make an "artificial" tooth fit in with your natural teeth, you're right — but we do it all the time! Creating a superb-looking restoration is a blend of science and art. It takes a careful eye to match tooth colors and to adjust biting surfaces and spacing for a perfect fit. But when experienced dental professionals and patients work together, the results can make us both proud of the achievement.
If you would like more information about crowns, please contact us or schedule an appointment for a consultation. You can also learn more about this topic by reading the Dear Doctor magazine articles "Porcelain Crowns & Veneers" and "Gold or Porcelain Crowns."