Posts for tag: oral surgery
By Drs Lawitts and Yeates
October 25, 2019
Although periodontal (gum) disease is the most common cause of bone loss in the mouth, women at or past menopause face another condition that could cause complications with their oral bone health — osteoporosis.
While normal bone goes through a balanced cycle of resorption (the dissolving of bone tissue) and re-growth, osteoporosis, a hormone-induced disease, tips the scale toward resorption. This reduces bone density, which weakens the bone and makes them more susceptible to fracture.
Some studies have shown a link between osteoporosis and existing gum disease; however, the greater concern at present from an oral health standpoint regards the side effects of a certain class of drugs called bisphosphonates used in the treatment of osteoporosis. Bisphosphonates slow excessive bone resorption, which helps restore normal balance to the bone growth cycle.
Some long-term users of bisphosphonates, however, may develop a complication in their jaw bone known as osteonecrosis in which isolated areas of the bone lose vitality and die. This can complicate certain types of oral surgery, particularly to install dental implants (which rely on stable bone for a successful outcome). While research is still ongoing, it does appear individuals at the highest risk of osteonecrosis are those with underlying cancers who receive high-dose intravenous bisphosphonate treatment every month for an extended period of time.
It's important then that you let us know before any dental procedure if you've been diagnosed with osteoporosis and what treatment you're receiving for it. If you've been taking a bisphosphonate for an extended period of time, we may recommend that you stop that treatment for three months (if possible) before undergoing oral surgery. While your risk of complications from osteonecrosis is relatively small, adding this extra precaution will further reduce that risk and help ensure a successful outcome for your scheduled dental procedure.
If you would like more information on osteoporosis and oral health, please contact us or schedule an appointment for a consultation. You can also learn more about this topic by reading the Dear Doctor magazine articles "Osteoporosis & Dental Implants" and "Good Oral Health Leads to Better Health Overall."
By Drs Lawitts
April 22, 2015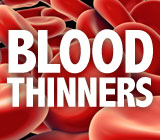 The proliferation of drugs to treat all manner of diseases and conditions has heightened concerns not only about general side effects, but also how a particular drug may affect treatments for other conditions. There are indications, for example, that drugs classified as blood thinners could cause complications for patients undergoing oral surgery.
Blood thinners like Warfarin are typically prescribed to patients with artificial heart valves or who are at significant risk for stroke, heart attack, or the formation of clots that could potentially damage the heart and lungs. The drug reduces the coagulation (clotting) mechanism in blood; aspirin taken regularly should also be considered a blood thinner.
As with any invasive procedure, blood thinners can complicate oral surgery. Blood doesn't clot normally and so bleeding during a procedure is more difficult to stop. This doesn't necessarily mean the surgery can't be performed. For one thing, many oral procedures like tooth removal involve little trauma to tissues and bleeding in the hands of a careful and experienced surgeon. The surgeon can also use hemostatic agents during surgery that will stabilize blood clotting, as well as suturing the incision in such a way as to reduce bleeding from surface capillaries. In the case of a tooth extraction, a bone graft placed within the empty socket not only reduces bone loss from a missing tooth, but can also enhance bleeding control.
In consultation with your medical doctor, it's also possible to temporarily stop or reduce your medication dosage in anticipation of a pending oral surgery. While it may not be safe to stop the drug altogether, a reduced dosage can ease the anti-coagulant effect and reduce any complications from bleeding that might occur during the surgery. You can then resume normal dosage soon after the procedure.
During your pre-op examination, it's important to let your surgeon know about any drugs you are currently taking, including over-the-counter drugs like aspirin. The oral surgeon will then be able to take the necessary steps, including working with your medical doctor, to ensure your surgical procedure is safe and uneventful.
If you would like more information on oral surgery precautions while taking blood thinners and other medication, please contact us or schedule an appointment for a consultation. You can also learn more about this topic by reading the Dear Doctor magazine article "Oral Surgery & Blood Thinners."