Posts for tag: orthodontic treatment
By Drs Lawitts and Yeates
January 13, 2019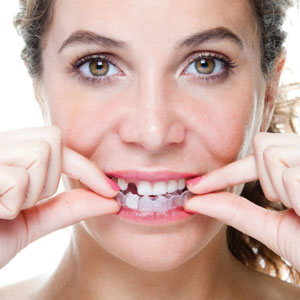 You have a lot of options for replacing missing teeth, from state-of-the-art dental implants to affordable, but effective partial dentures. But if the teeth in question have been missing for a while, you may first have to undergo orthodontic treatment. Here's why.
While they may feel rigid and firm in the jawbone, teeth are actually held in place by periodontal (gum) ligaments. These elastic tissues lie between the teeth and the bone and attach to both with tiny filaments. This mechanism allows the teeth to incrementally move over time in response to biting pressures or other environmental factors.
When a tooth goes missing the teeth on either side of the space naturally move or "drift" into it to help close the gap. This natural occurrence can reduce the space for a restoration if it has gone on for some time. To make room for a new prosthetic (false) tooth, we may have to move the drifted teeth back to where they belong.
If you're thinking metal braces, that is an option—but not the only one. Clear aligners are another way to move teeth if the bite problem (malocclusion) isn't too severe. Aligners are a series of custom-made, clear, plastic trays worn over the teeth. The patient wears each tray, slightly smaller than the previous one in the series, for about two weeks before changing to the next one. The reduction in size gradually moves teeth to their intended target position.
Many adults prefer clear aligners because they're nearly invisible and don't stand out like metal braces. They're removable, so you can take them out for cleaning or for special occasions. And, we can also attach a prosthetic tooth to the tray that temporarily covers the missing tooth space.
Whichever orthodontic treatment you choose, once completed we can then proceed with restoration to permanently replace your missing teeth. While it can be a long process, the end result is a beautiful smile that could last for years to come.
If you would like more information on your dental restoration options, please contact us or schedule an appointment for a consultation. You can also learn more about this topic by reading the Dear Doctor magazine article "Straightening a Smile before Replacing Lost Teeth."
By Drs Lawitts and Yeates
October 20, 2018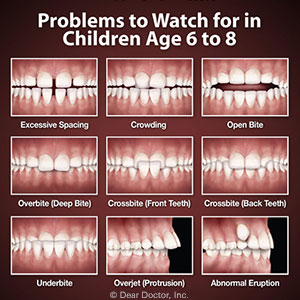 You may not always be able to tell if your child's bite isn't developing properly. Â That's why you should have them undergo an orthodontic evaluation around age 6 to uncover any emerging problems with tooth misalignment.
Still, there are some visible signs all's not well with their bite. As the primary (baby) teeth give way, the permanent teeth erupt sequentially around ages 6 to 8. As they come in, you should notice that each tooth fits uniformly next to each other without excessive gaps or, on the other end of the spectrum, not crowded together in crooked fashion. Upper teeth should also fit slightly over the lower teeth when the jaws are shut.
If their teeth appearance deviates from these norms, they may have a bite problem. Here are 4 abnormalities you should watch for.
Underbite or deep bite. As we mentioned, the front teeth should cover the lower teeth with the jaws shut. In an underbite, the reverse happens — the lower teeth are in front of the upper teeth. It's also a problem if the upper teeth cover the lower teeth too much (often referred to as "deeply").
Open bite. This occurs when there's a gap between the upper and lower front teeth while the jaws are shut together. One possible cause is late thumb sucking, which can put undue pressure on the front teeth and cause them to develop too far forward while forcing the bottom front teeth further backwards.
Crossbites. This kind of bite occurs when some of the teeth don't fit properly over their counterparts, while others do. Crossbites can occur anywhere in the mouth, for example the upper front teeth fitting behind the lower front teeth while the back teeth overlap normally, or the reverse (front normal, back abnormal).
Misalignments and Abnormal Eruptions. Sometimes upper teeth may align too far forward, a situation known as protrusion. Conversely, lower teeth (or the jaw itself) may come in too far back (retrusion). Because a primary tooth might be out of position or not lost in the proper sequence, a permanent tooth might noticeably erupt out of its proper position.
If you notice any of these situations with your child's teeth see your dentist or orthodontist soon for a full examination. If caught early, we may be able to take action that will lessen or even eliminate the problem.
If you would like more information on treating bite problems, please contact us or schedule an appointment for a consultation.
By Drs Lawitts and Yeates
February 12, 2018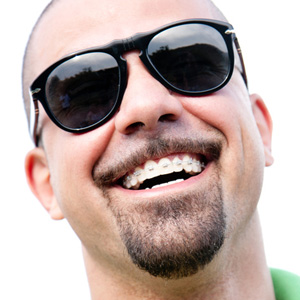 For whatever reason, you've put off replacing a missing tooth for awhile. Now you want to fill that empty gap in your smile with a dental implant restoration.
But if your tooth's been missing for a long time, there could be a problem with space. This is because the teeth on either side of the space may have gradually drifted into it, leaving no room for the implant. You could need orthodontic work first to return these teeth to their proper position.
We could use braces, metal orthodontic devices with wires threaded through brackets bonded to the teeth that are then anchored, usually to back teeth. The orthodontist uses elastics or springs as well as possibly incrementally tightening of the wire against the anchors. These techniques create pressure or tension on the teeth for the desired direction of movement. The teeth's natural mechanism for movement does the rest.
But while effective, braces can be quite noticeable, an embarrassing thought for many adults having to wear them over several months of treatment. But there may be an alternative: clear aligners, a succession of slightly different plastic trays usually worn in two-week intervals. Sequentially wearing each tray gradually moves the teeth to their desired positions.
Though not appropriate for all bite situations, clear aligners have a number of benefits when they can be used. They're nearly invisible to others and can be removed for hygiene tasks or rare special occasions. What's more, the orthodontist may attach a temporary prosthetic (false) tooth to the trays to camouflage the missing space during treatment.
There's one other issue you may have to deal with: if your tooth loss was related to periodontal (gum) disease, the gums and underlying bone may be in poor condition. In fact, substantial bone loss could rule out an implant altogether. But we may be able to remedy both gum and bone deficiencies through grafting or plastic surgery. It may be possible to regenerate enough bone to support the implant; and surgically repairing your gums will help ensure the implant appears natural.
If you have problems like these, don't give up on your restoration goal just yet. With some orthodontic and dental work ahead of time, we may still be able to make implants a reality for you.
If you would like more information on restoring your smile after losing teeth, please contact us or schedule an appointment for a consultation.