Posts for tag: removable partial denture
By Drs Lawitts and Yeates
May 28, 2019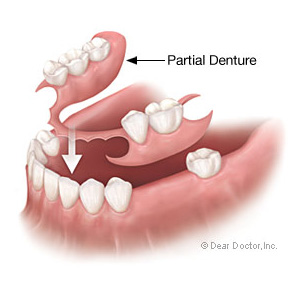 If you have a few missing teeth but can't afford dental implants or fixed bridgework, consider a removal partial denture (RPD). Although implants may be the superior choice aesthetically and functionally, an RPD can still effectively give you back your teeth.
RPDs are designed to replace one or more missing teeth but not a full arch like a full denture. Considered a permanent restoration, RPDs are also more durable than transitional "flippers," denture appliances that are flexible and light enough to be flipped out of the mouth with a flick of the tongue.
The key to both their affordability and durability is vitallium, a strong but lightweight metal alloy most often used in their frame construction. To it we attach artificial teeth usually made of porcelain or glass-filled resins that occupy the precise location of the missing teeth on the gum ridge. The artificial teeth and frame are surrounded by gum-colored plastic for a more natural look.
Each RPD is custom-made depending on the number and location of the missing teeth. Its construction will focus on minimizing any rocking movement of the RPD during chewing or biting. Too much of this movement could damage the adjacent teeth it's attaching to and cause the appliance to be uncomfortable to wear. We can stabilize the frame by precisely fitting it between teeth to buttress it. We also insert small rests or clasps made of vitallium at strategic points to grip teeth and minimize movement.
RPDs do have some downsides: their unique attachment with teeth encourages the accumulation of dental plaque, the thin bacterial film that's the leading cause of tooth decay and periodontal (gum) disease. These diseases can affect your remaining teeth's health and stability, which could in turn disrupt the fit of the RPD. Also, too much movement of the appliance can make the teeth to which it's attached become more mobile. It's important, then, if you wear a RPD to remove it daily for cleaning (and to thoroughly brush and floss your natural teeth), and to remove it at night to give the attaching teeth a rest.
A RPD can give you back the teeth you've lost for many years to come—if you take care of it. Maintaining both your RPD and the rest of your teeth and gums will help extend the life and use of this effective and affordable replacement restoration.
If you would like more information on teeth replacement options, please contact us or schedule an appointment for a consultation. You can also learn more about this topic by reading the Dear Doctor magazine article "Removable Partial Dentures: Still a Viable Tooth-Replacement Alternative."
By Drs Lawitts and Yeates
July 27, 2018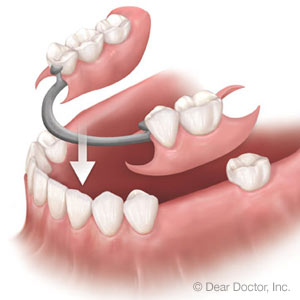 People with missing teeth have more replacement options than ever before, including the ever popular but often more expensive dental implant. But there has also been an expansion of choice on the more affordable side of dental restorations. The flexible removable partial denture (RPD) is one such choice. 
Though RPDs have been around for some time, the newer flexible RPD offers some advantages over the more rigid traditional RPD. They're made of a kind of nylon that's pliable but also strong and durable. This material is thermoplastic, meaning when heated it can be injected into molds based on a patient's individual mouth to form an accurate denture base. The gum-colored base can also be formed to cover any receded areas of the gums, which can greatly improve smile appearance.
Older versions of RPDs are made of rigid acrylic plastic that stay in place in the mouth with metal clasps that attach to remaining teeth. The flexible RPD, on the other hand, is secured with finger-like nylon extensions that fit and hold in the natural teeth's concavities near the gum line. This, along with its relatively light weight, offers a more comfortable fit.
But aside from these benefits, flexible RPDs do have a few drawbacks. Although fracture-resistant, they're not easy to repair or reline to readjust the fit to accommodate mouth changes. They can stain (though not as much as a traditional RPD), so they require diligent cleaning and maintenance.
We consider the whole category of RPDs as "temporary" restorations, meaning they're intended as a transitional phase between tooth loss and a permanent restoration like a natural tooth-supported fixed bridge or dental implants. For some, however, the flexible RPD might be a more long-term solution. As mentioned before, to extend their life as much as possible they should be removed daily and cleaned thoroughly. And like any form of denture, they should not be worn overnight.
In either case, flexible RPDs offer an effective way to restore not only dental function diminished by missing teeth but an improved appearance as well. With careful maintenance, they could serve you well for some time to come.
If you would like more information on flexible partial dentures, please contact us or schedule an appointment for a consultation. You can also learn more about this topic by reading the Dear Doctor magazine article "Flexible Partial Dentures: An Aesthetic Way to Replace Teeth Temporarily."
By Drs Lawitts and Yeates
October 04, 2017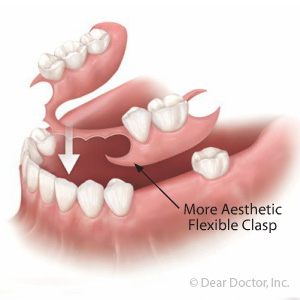 If you've lost some teeth you may eventually want to replace them with dental implants. Implants by far are the restoration of choice due to their life-likeness and durability. But those advantages don't come cheaply — implants can be expensive especially for multiple teeth.
If you're forced to wait financially for implants, you still have other intermediary options like a removable partial denture (RPD). The conventional RPD has a rigid acrylic base colored to resemble gum tissue supported by a metal frame with attached prosthetic (false) teeth at the missing teeth locations. They're held secure in the mouth through metal clasps that fit over the remaining teeth.
But these conventional RPDs can sometimes be uncomfortable to wear and don't always cover the bottom of the gum completely. If this is a concern, you might consider an alternative: flexible RPDs. The base of this RPD is made of a form of flexible nylon rather than acrylic plastic. They're much more lightweight but still fit securely in the mouth with thin plastic extensions rather than metal clasps. The base can also be more easily formed to cover areas where gum tissue may have receded.
While flexible RPDs hold up better to wear and tear than their conventional counterparts, they must still be maintained like any other appliance. They can accumulate plaque (bacterial biofilm) responsible for tooth decay and periodontal (gum) disease, so daily thorough cleaning is a must. And if there fit becomes loose they can be more difficult to reline or repair than other types of dentures.
They also share a common weakness with other dentures — they can't prevent and may even stimulate bone loss. As bone ages, old cells dissolve and new ones form to take their place. As we eat and chew our teeth transmit the forces generated through the teeth to the bone to stimulate it to grow. RPDs and other dentures can't transmit this stimulus, so the bone replaces much slower to the point that the bone volume can diminish.
That's why it's best to consider any RPD as a temporary solution until you can obtain an implant for a more permanent and bone-friendly option. In the meantime, though, an RPD can provide you with a great solution for both form and function for missing teeth.
If you would like more information on RPD choices, please contact us or schedule an appointment for a consultation. You can also learn more about this topic by reading the Dear Doctor magazine article "Flexible Partial Dentures: An Aesthetic Way to Replace Teeth Temporarily."