Posts for tag: space maintainer
By Dr Lawitts
May 17, 2020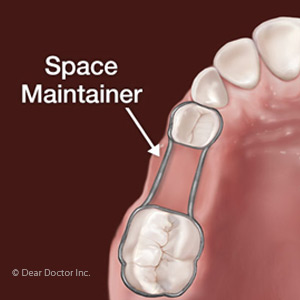 Children losing their primary ("baby") teeth is both natural and necessary. So, is it really that much of a concern if they lose one early?
The answer is yes — premature primary tooth loss could have long-term consequences for the permanent teeth as they develop within the jaw before eruption. Primary teeth play a crucial role in this development: as the permanent teeth form and grow the primary teeth serve as placeholders until they're ready to erupt. A natural process then takes place in which the primary tooth's roots dissolve (resorb) to allow them to fall out. Once they're out of the way, the permanent teeth can then erupt.
If, however, they're lost before the permanent teeth are ready, it leaves a space in the child's bite. The dynamic mechanism between teeth and the periodontal ligament causes adjacent teeth to move or "drift" into the space. This can crowd out the permanent tooth intended for the space, causing it to come in improperly forming a malocclusion (bad bite), or it may become impacted and remain partially or fully below the surface of the gums.
This poor dental development could lead to extensive orthodontic treatment later in life, which is why we seek to preserve even decayed primary teeth for their entire natural lifespan. If the tooth is lost, however, we need to take action to preserve the space for the permanent tooth and avoid costly treatment later.
This usually calls for a "space maintenance" appliance — a type of orthodontic "retainer" — worn by the child to prevent other teeth from drifting into the space. Designed by your orthodontist, the appliance can also perform a cosmetic and social function by causing the space to appear unnoticeable.
Maintaining that space requires monitoring — especially by an orthodontist — and continued dental hygiene and care both at home and at the dentist's office. The extra care preserving the space caused by premature tooth loss will help to ensure your child's dental structure develops properly and their future smile will be an attractive one.
If you would like more information on the care and treatment of primary teeth, please contact us or schedule an appointment for a consultation. You can also learn more about this topic by reading the Dear Doctor magazine articles "Early Loss of Baby Teeth" and "Losing a Baby Tooth."
By Dr Lawitts
March 28, 2020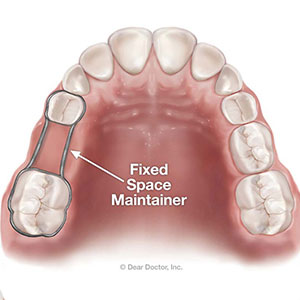 At your child's latest dental visit, you found out one of their primary ("baby") teeth has become decayed and in danger of loss. Of course, you may think, it's only a primary tooth — it's going to come out sooner or later.
But a primary tooth lost "sooner" rather than "later" can create long-term negative consequences for your child's dental health. For the sake of the future permanent tooth, the best treatment strategy could be to put forth the effort and expense to save it.
Besides its role in eating and chewing, a primary tooth's most important function is as a "trailblazer" for the permanent tooth developing below it. A primary tooth doesn't normally loosen and let go until the new permanent tooth is ready to erupt. Until then they hold the new tooth's space in the jaw.
But if the primary tooth is lost prematurely, nearby teeth can drift into and crowd the space so that the permanent tooth comes in out of position. This can result in a malocclusion, or poor bite.
Depending on the state of your child's jaw development, it may be advisable to attempt saving the tooth through a filling or, in the case of deep decay, a modified root canal treatment. If the tooth can't be saved, then placing an orthodontic appliance known as a space maintainer might be necessary. Cemented to a tooth next to the empty space, this appliance has a looped band of metal that butts against the tooth on the other side of the gap, and prevents both teeth from drifting into the space.
Intervening for a decayed primary tooth can seem a waste of time and money since it has a limited lifespan to begin with. But for the health of its companion permanent tooth, as well as possibly avoiding orthodontic treatment, it could be well worth it for your child's long-term dental health.
If you would like more information on dental care for your child, please contact us or schedule an appointment for a consultation. You can also learn more about this topic by reading the Dear Doctor magazine article "Importance of Baby Teeth."