Posts for tag: tooth wear
By Drs Lawitts
June 17, 2018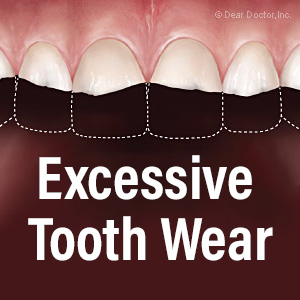 Just like other parts of your physical body, teeth naturally wear as we get older. Just the effect from chewing during hundreds of thousands of meals in a lifetime can take its toll.
But there are some factors that can make tooth wear worse. By addressing them promptly should they arise, you can keep age-related tooth wear to a minimum.
Here are 3 areas to watch for to avoid excessive tooth wear.
Dental disease. Tooth decay and periodontal (gum) disease are most responsible for not only the loss of teeth but for compromising tooth health overall. But the good news is they're largely preventable through proper oral hygiene practices to remove bacterial plaque, the main trigger for these diseases. Prompt treatment when they do occur can also minimize any damage and help your teeth and gums stay strong and healthy.
Your bite. Also known as occlusion, the bite refers to how the upper and lower teeth align with each other when you bite down. When they don't align properly, regular chewing and biting can create abnormally high forces in the teeth and cause them to wear unevenly and more rapidly. Correcting the bite through orthodontic treatment won't just improve your smile, it can improve bite function and decrease accelerated tooth wear.
Bruxism. This is a general term describing habits like teeth clenching and grinding in which the teeth forcefully contact each other beyond normal parameters. There are a number of causes for bruxism, but for adults it's typically related to stress. Over time, bruxism can accelerate tooth wear and cause other problems like TMD. There are a number of ways to stop or at least reduce the effects of bruxism like relaxation techniques or a night guard worn during sleep that prevents the teeth from making forceful contact.
If you suspect you're experiencing any of these factors, see us for a full examination. We'll then be able to discuss your condition, the potential impact on tooth wear, and what we can do to protect your teeth.
If you would like more information on protecting your teeth as you age, please contact us or schedule an appointment for a consultation. You can also learn more about this topic by reading the Dear Doctor magazine article "How and Why Teeth Wear."
By Drs Lawitts
March 28, 2012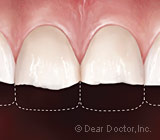 You may have noticed, as you get older, that the enamel of your teeth is looking worn in certain areas. Sometimes tooth wear takes the form of a minor chipping or fracturing at the incisal (cutting) edges of the teeth, or a loss of tooth material from the area near the gum line. In more severe cases, worn teeth look quite a bit smaller than they used to. Why does this happen?
Some wear with age is natural. But too much wear can interfere with your bite, expose more sensitive inner parts of the tooth to decay, and give you a more aged appearance.
There are things you can control that affect wear:
Your habits: Clenching or grinding habits, also called "bruxism," is a major cause of tooth wear. The motion of teeth sliding over each other with forces that are beyond what's normal for biting or chewing causes a mechanical removal of tooth enamel. This can happen during sleep or periods of high stress. In either case there are therapies available, such as a thin, professionally made mouthguard that prevents your teeth from coming into contact with each other. Holding foreign objects, such as nails and bobby pins, between your teeth can also cause wear.
Your diet: Tooth enamel can be eroded (dissolved away) by acidic beverages, such as sodas, sports drinks and juices. Frequent snacking on sugary foods encourages the growth of oral bacteria that produce acid as a byproduct — also leaving your teeth vulnerable to tooth decay. Your saliva can buffer the effects of the acid in your mouth in about half an hour; if you consume these types of foods and beverages continually, there won't be enough time for this to work.
We can restore the appearance and function of worn teeth in a variety of ways. Porcelain crowns and veneers, for example, can re-establish the normal thickness and length of teeth while improving their color and giving you a more youthful appearance.
If you have any questions about tooth wear, please contact us today to schedule an appointment for a consultation. You can learn more about tooth wear by reading the Dear Doctor magazine article "How And Why Teeth Wear."